Summer office Closure

Our office is closed for the summer and will reopen August 27th.
Emails can be sent to jana.mullin@starcatholic.ab.ca and will be checked periodically.
Supply Lists 2019/2020
Please click here for next year's supply lists by grade.
2019-2020 Leduc Calendar Approved
Busing Registration 2019-2020
Busing registration for 2019-2020 should be done online.
Click Here to register.
**All students must register for busing every year (even if you already use the bus this year).
Registration is Open for 2019-2020
If your child turns 5 by March 1, 2020 they are eligible for kindergarten for 2019/2020.
Please stop by the office for registration forms or bring them in completed with a copy of the birth certificate and baptismal certificate or email completed packages to jana.mullin@starcatholic.ab.ca.  For grades 1 - 8 please include a copy of the most current report card.
Kindergarten classes are offered full days Mon/Wed some fridays or Tues/Thurs some fridays.
Please contact the office at 780-986-0045 for questions.
ECS Registration Forms 2019-2020
Gr 1- 8 Student Registration Form 2019
Student Responsible Use Agreement
Reporting Attendance
flcs.lg.attendance@starcatholic.ab.ca
Get important messages via SMS (Text Messages)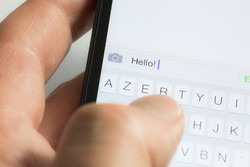 In an effort to reach you more effectively, parents can now receive important messages via SMS and text.
Those messages include bus cancellation and status notification.
To receive Bus Status updates and important STAR Catholic notifications via text messaging, Simply text "Y" to 978338
Division News